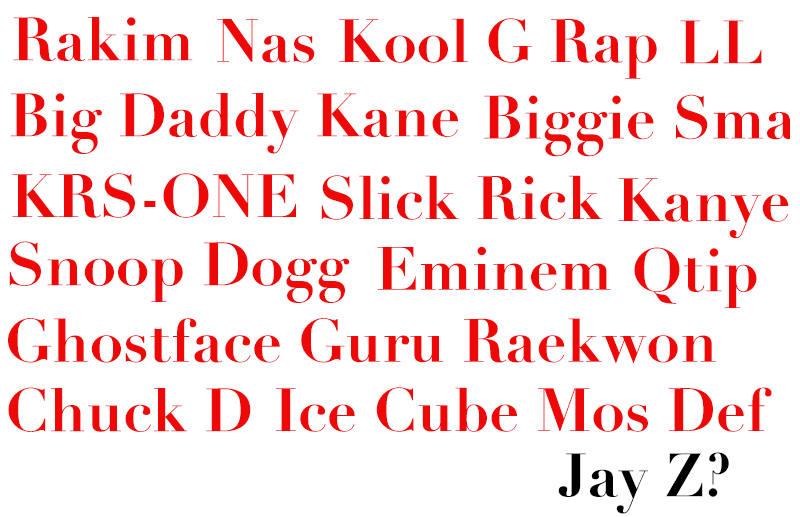 Jay Z was a late bloomer in the Hip Hop game. Although he got an early start, it was nearly a decade before his solo career kicked off.
It's hard to argue how successful Jay Z has been, and how many hits he has made. His career spans several decades more than most MCs. To this day, he continues to put out relevant hits, and yet the simple fact that he was slow to launch his solo career during a crucial time, might explain why he's often not one of the first names that come up in people's top 5 MCs lists.
This late status also may actually explain why he's currently in the position he's in today. He had a more mature approach to building his career, and got a chance to learn from others mistakes.
If you ask people that grew up as first generation Hip Hip fans, there's no doubt that top 5 lists skew towards the early rappers. By the time Jay Z was on his way, he was up against a large number of pioneers with original styles, interesting voices, and stacks of hits.
Although most New York heads remember him from his debut with JAZ and "Hawaiian Sophie," or his smokin' cameo on Original Flavor's "Can I Get Open," it wasn't until he re-launched in 1993 with "In My Lifetime," that he started to be on his way to success. By then, MCs like Rakim, Slick Rick, Big Daddy Kane, Kool G Rap, KRS, Chuck D, and Guru had already achieved legendary status.
A masterful showman and clear standout
Attending a small industry showcase in 1993, I happened to catch Jay Z perform.
He did a short skit where he threw a huge stack of dollar bills in the air – causing momentary hysteria as people scrambled for the money. His dedication to doing something different and making a memorable performance are two factors that help explain why he's had longevity, and occupies a top position today in the rap game.
Original Flavor – Can I Get Open in 93

In My Lifetime in 1995